AKC/UKC Labrador Retriever Puppies
All pups will be well socialized; have received shots, dew claws removed and micro-chipped. A non-refundable (unless a puppy in not available) deposit is required and picking order is determined on a first come, first served basis.

We will gladly ship anywhere in the continental U.S.; however, the buyer is responsible for additional charges.

Puppy Guarantee

Our Labrador Retriever Puppies whelped carry a 26 Month Hip and Eye Guarantee. This covers any genetic problem, which prevents the puppy from being certified by the Orthopedic Foundation for Animals (OFA), or the Canine Eye Registration Foundation, Inc. (CERF).

It is impossible to state that a puppy will be completely free of genetic imperfection. In our breeding program, we only breed to dogs certified with an OFA rating of GOOD or EXCELLENT. We try very hard to research the backgrounds of the sires and any litters they may have produced. Only then, when we are satisfied that these sires are sound, will we breed. We feel that by adhering to these standards, we are reducing the risk of producing a defective pup or litter. Therefore, we offer this guarantee, providing the purchaser complies with this agreement.
OFA will only certify dogs who have reached 24-months of age; they also perform non-certified preliminary evaluations beginning at 6-months of age. For this guarantee to be honored, the dog must be X-rayed and certified within two (2) months of reaching 24-months of age.

You must have your puppy's eyes examined and certified by a Board Certified Canine Ophthalmologist at the time it reaches two (2) years of age.

If a problem should arise before the dog reaches the required ages stated herein, you must have OFA evaluate the X-rays and send you a copy of their findings, or a copy of the CERF evaluation from a Board Certified Canine Ophthalmologist.

You must use the words "Bull Valley Retrievers or BVR" in the dog's registered name when registered with the American Kennel Club and/or United Kennel Club (i.e., Bull Valley Retriever's Deuces Wild, BVR's Pair of Diamonds, Digger of Bull Valley Retrievers, etc.)

When the following requirements are met, this guarantee will be in effect and honored by Bull Valley Retrievers.

A copy of the findings from OFA or CERF must be sent to us for our records.

The Dog must be in the original owners name and not have been bred or sold.

A letter from your vet, identifying the microchip of the dog, and that it has been NEUTERED or SPAYED.

Micro chip numbers must appear on all documents of certification.

At this point, when we are satisfied that a problem does exist and the dog has been neutered or spayed and has not been bred or sold, we will either refund the purchase price of the pup, or provide you another pup of like or similar breeding (the choice will be made by you, the original purchaser). If the price of a replacement pup is greater than the original pup purchased, you must pay the difference. You, the purchaser, will assume the expense of transportation of a replacement pup.

Please feel free to contact us with any additional questions.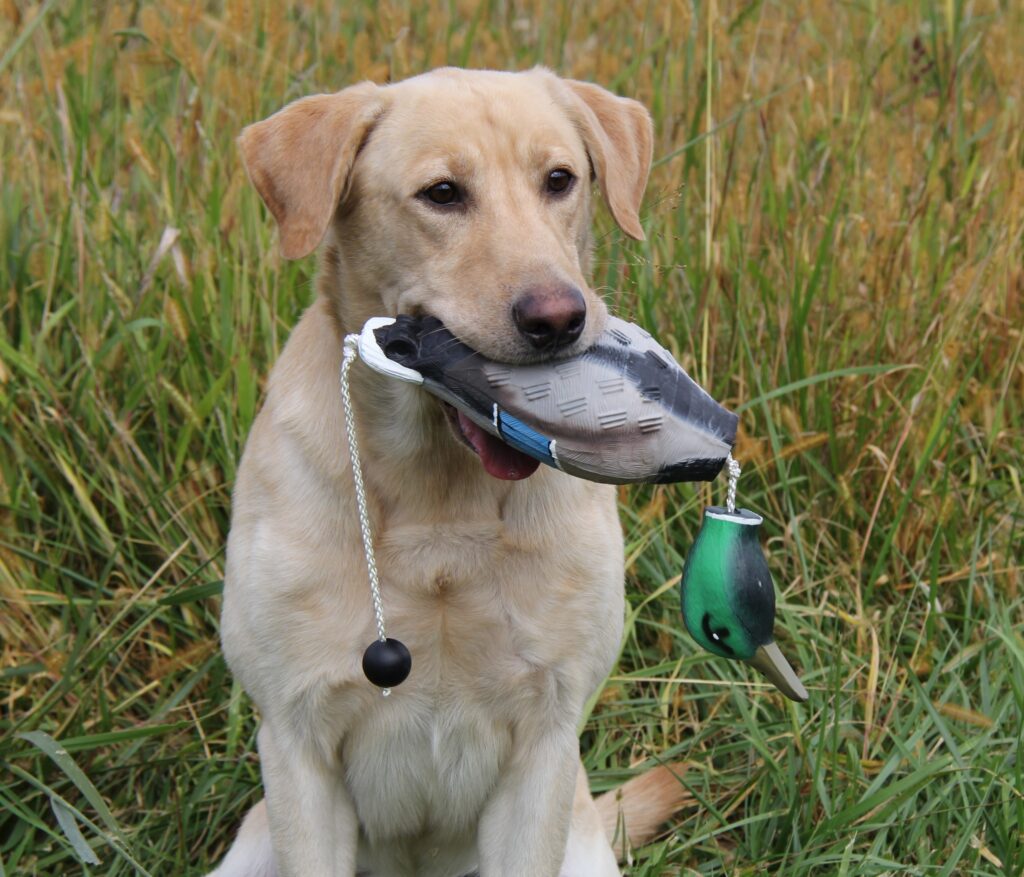 UPDATED 3/13/23
WE ARE EXPECTING A LITTER OF AKC / UKC BLACK & YELLOW LABRADOR RETRIEVER PUPPIES THE FIRST W
EEK OF APRIL 2023
HR UH Louie JH x SHR Grace JH
See Louie's Pedigree Here x See Grace's Pedigree Here
Louie
OFA Hips: LR-245731E25M-VPI (Excellent)
OFA Elbow: LR-EL94704M25-VPI
CNM: Normal (clear)
EIC: Normal (clear)
AKC reg: SS03674110
Grace
OFA Hips: LR-261896G28F-P-VPI (Good)
OFA Elbow: LR-EL109736F28-P-VPI
CNM: Normal (clear)
EIC: Normal (clear)
UKC Reg: R295765
AKC reg: SS15848005
Puppies are offered at $1500.00
Vet Checked
26 Month Health/Hip Guarantee
Wormed
Microchipped
Dew Claws Removed
Up to date on all Vaccinations
These pups will be best placed with active families that hunt regularly or campaign (Hunt Test / Field Trial) their dogs.
We will be offering refunds for AKC / UKC Titles that are obtained while owning these dogs as we would like to encourage these dogs doing what they were bread to do.
Contact us for more details on our Labrador Retriever Puppies or to provide a deposit to reserve your new puppy.
708.341.2576