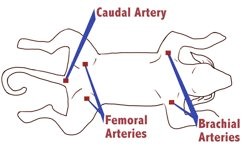 Knowing what to do in a Dog Emergency and severe bleeding injury is critical and can save your pets life!
Fortunately I have never had a severe dog emergency involving a laceration or event that would cause a severe bleeding injury, but being prepared is crucial in a situation such as this.
The following article is an excellent reference for anyone that actively participated in hunting, outdoor dog events or even your household companion.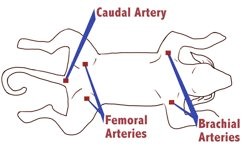 "If your dog is injured, he is probably in pain. It is important to not give him aspirin. Aspirin will actually decrease the ability for blood clots to form for approximately five to seven days. This is not going to help at all. Additionally, ibuprofen, naproxen, and acetaminophen can be toxic for dogs. There are few effective and safe over-the-counter pain meds that work in dogs, so the best option is to move quickly to get your pet some veterinary help." – Dr. Lauren Pugliese, guest author, Veterinary medicine
I recommend always carrying a Dog First Aide Kit with you on any trip and be prepared for an emergency, just in case.
Hopefully you will never be involved in a dog emergency response situation and never need the information discussed here in this brief post, but it is always better to be prepared than to be caught is a situation that you need something and do not have…